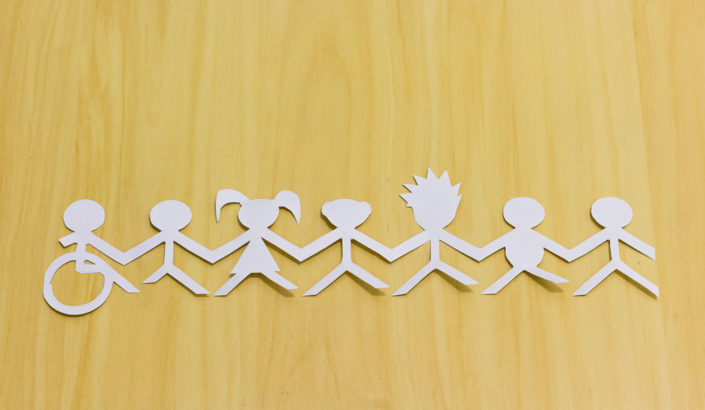 Our Commitment to Diversity, Equity, and Inclusion
"Not everything that is faced can be changed. But nothing can be changed until it is faced."

James Baldwin
Our Ongoing Learning Journey
We commit to applying an equity lens to social-emotional learning, mindfulness, and character education.
We acknowledge the limits of our awareness as educators and researchers—and commit to continuous learning for achieving greater equity.
We will keep abreast of the emergent efforts in our field to address diversity, equity, and inclusion in our work as teachers and researchers. We strive for intellectual humility—both personally and professionally—on behalf of all students.
An Invitation to the Greater Good in Education Community
We invite insights, wonderings, and open conversations from all educational professionals—and jointly commit to unearthing our assumptions, biases, and stereotypes.
We extend an open invitation to all Greater Good in Education (GGIE) users to share reflections and learning with us and the GGIE community as you adapt GGIE practices to meet the needs of all students and adults in your respective communities. (Feel free to share your experiences in our GGIE "comments" sections under each practice or send us a note.)
We recognize the range of identities and characteristics that make human beings unique, such as race, ethnicity, gender, sexual orientation, gender expression or identity, socioeconomic status, age, physical, mental and learning abilities, religious beliefs, size, geographic location, and political beliefs.
We honor and celebrate the dignity of all students and educational professionals.
We prioritize educational equity as a goal of social, emotional, and ethical development—as well as student and educator well-being.
We believe that all students and educators deserve access to the resources and tools they need to live healthy, productive, and joyful lives as engaged citizens and human beings.
Empowering Educators to Be Culturally Responsive
Greater Good in Education (GGIE) provides educational professionals across the globe with free access to research-based and research-informed lessons, practices, and other resources for addressing their own well-being as well as the social, emotional, and ethical development of the students in their communities. We offer these resources for free to educational professionals across the globe to ensure greater access to best practices and to promote equity for all students.
We believe that educators can thoughtfully develop a culturally-sensitive and trauma-informed approach to students' developmental needs by embedding simple practices into their current curricula and daily classroom routines.
To support this effort, we have done the following—to the best of our ability:
Identified practices and research that may be limited based on one culture's norms;
Included practice-specific reflection questions for teachers, as relevant;
Provided a more general list of guidelines for adapting practices to fit the needs and norms of students' and families' respective communities.
Although we may not have a complete list of guidelines yet, it is a start. We invite educators to keep asking questions and sharing suggestions so that we can offer as much support as possible to ensure equitable outcomes for all students.
Addressing Barriers to Educational Equity
If we want to create kinder, happier, and more equitable schools in this way, we must directly address the barriers to equitable education. A recent
report
identifies the following school-level, individual-level barriers, and systemic-level barriers including 1) exclusionary disciplinary policies and practices, 2) a lack of trauma-informed practices, 3) implicit biases among staff, 4) teacher burnout, and 5) poverty.
GGIE does not identify "equity" (or other relevant terms like diversity and inclusion) as a separate topic or search category on our site. When we reduce this crucial work to a term--or an item to check off our lists as educators—we are not acknowledging the depth and complexity of equity work, which deserves ongoing reflection to ensure the best outcomes for all students. However, we do address diversity, equity, and inclusion in the following ways:
We embrace a strengths-based, student- and healing-centered approach to learning and development that serves as a counter to deficit thinking and exclusionary discipline practices, with practices like Discover Your Great Full Self and Check-In Circle for Community Building.
We incorporate trauma-sensitive practices and approaches to foster safety and a sense of belonging in classrooms and schools.
We acknowledge implicit bias as a barrier to equity by featuring practices to enhance self-awareness and social awareness, like the Common Beliefs Survey: Teaching Racially and Ethnically Diverse Students and the Mindful Reflection Process for Developing Culturally Responsive Practices.
We prioritize teacher burnout as a potential barrier to equity by providing science-based practices for developing educators' social-emotional competence, well-being, and resilience.
We focus on deepening empathy, compassion, and relationship skills through staff and student practices designed to build trust and bridge differences.
Finally, we acknowledge systemic barriers like poverty, racism, and racist institutional policies. Though such barriers may seem insurmountable, we must work toward eradicating them as part of achieving greater equity.